1996 Rodeo LS for sale!!!!
07-22-2009, 07:12 PM
Join Date: Jul 2009
Posts: 1
1996 Rodeo LS for sale!!!!
---
I'm selling my 96 Rodeo.
Exterior: Black and grey
Interior: Grey and Black (Leather)
Engine: V6 24v
Trans: Automatic w/ 4wd
Model: LS (5 yr. anniversary edition)
Wheels: 16"
Optional: 20" ASA model# LS7 (Chrome 5 spoke)-$1,500 firm for wheels
Exhaust: Flowmaster Series 40
Stereo: Custom
-tweeters: Infiniti
-front door: Memphis
-rear ceiling mount: Audiobahn (6x9)
-amp: Kenwood (600w) for above speakers
-amp: Rockford Fosgate (800.2)
-Subs: 2 12" Audiobahn Subs (1000watts RMS each)
-Subs enclosed in Obcon box with clear plexiglass back
-CD player: Alpine
-165 amp custom built alternator
-2 digital VooDoo farad capacitors (platinum)
-two batteries in vehicle (Stereo has own battery)
-stereo is set up with distribution blocks, cross overs, etc.
This truck was extremely well maintained and cared for. Oil changed properly every 3k. Four wheel drive is fairly new (dealer replaced). New brakes and rotors.
Interior and exterior are in excellent condition
This truck has 215k miles on it. Almost all highway. Stepdad purchased at 24k and drove from NW CT to SW CT everyday. I bought it at 124k from him and drove from NW CT to school at Uconn every other day. I should have most of the service records. Please note that work is needed on this truck. It drives but usually will not shift out of first gear or if it does it will just slip in and out of neutral. I think the motor is extremely strong and will go 300k if tranny issue is fixed. I read that it could be the TCM (transmission control module) or also assume it could be the trannsmission itself. There is an oil leak, but has been there for over 100k miles. All fluids closely monitored.
This is not the actual vehicle but this is EXACTLY what it looks like.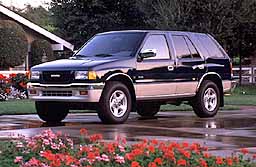 I would like $2,000 for this but will take the first reasonable offer. Wheels extra.
If you would like to see it or have any questions or concerns, please call me (Tom) @ 805-722-2581 or 860-207-4729. I am located in the area of Litchfield County, Connecticut
Thread
Thread Starter
Forum
Replies
Last Post
Private For Sale/Trade Classifieds